LARGE FORMAT MENUS
Large menus can make a big impression on your clientele - use of color and simple graphics draw your eye to each highlighted section while keeping the menu readable. AJ's Soda Shop wanted their menu to be fun and have 'pop' (pun intended). BWdeSigns created several other signs for this client to coordinate with the main menu.
This design is 42" x 60". It was shipped from NC to WY and due to size, was considerably more than shipping 2 panels would have been. If your menu is large or if your overall design needs to be large, you will want to weigh the value of having an extra large board against breaking the design up into smaller pieces to reduce shipping fees and possibly stay within your budget.
Two smaller boards were 24" x 42", each having a blank space so they can write in Specials and Ice Cream Flavors on the pvc panels we used. See the Printing category for more information on the various substrates available through BWdeSigns.
LARGE FORMAT SIGNS
Spitale's Deli in Louisiana wanted to highlight menu favorites and their own bottled dressings while also adding a design element to a large empty wall in their new location. If you go to Mardi Gras, they are now on the main drag - so pop in and have a Muffaletta or a PoBoy!
They wanted to pull certain elements from their community to give the restaurant decor a more local feel; the tiles spelling out Spitales, the shortened 'Metry', the trolley with their area code and name, as well as the popular food choices and fleur di lis.
They chose separate panels to give each board its own personality. We used the pvc board with pre-drilled holes to make it easy for them to mount the signs.
Spitale's chose black&white over a more colorful design. Order Your Own Custom Signs by BWdeSigns Here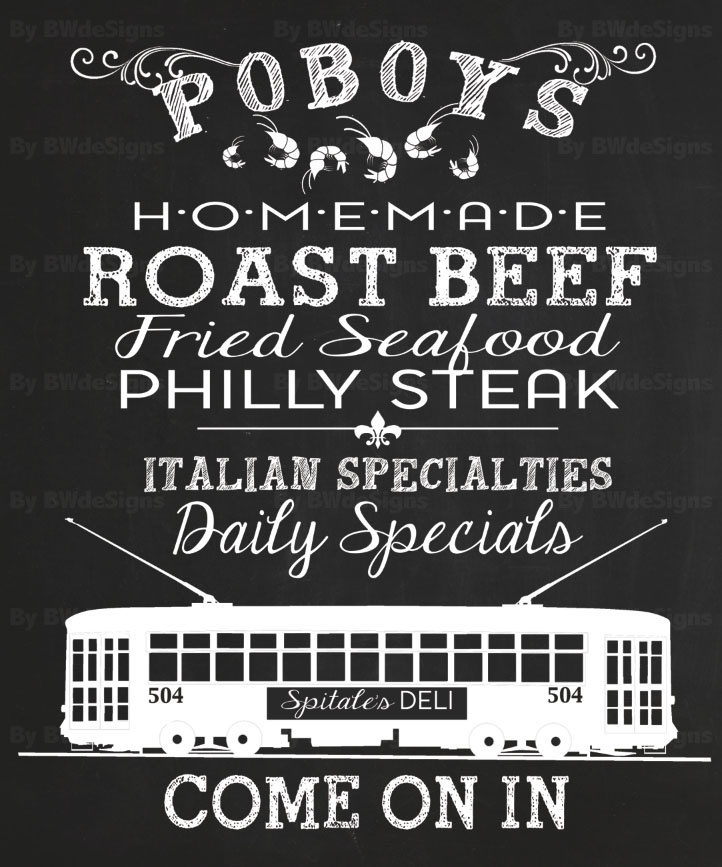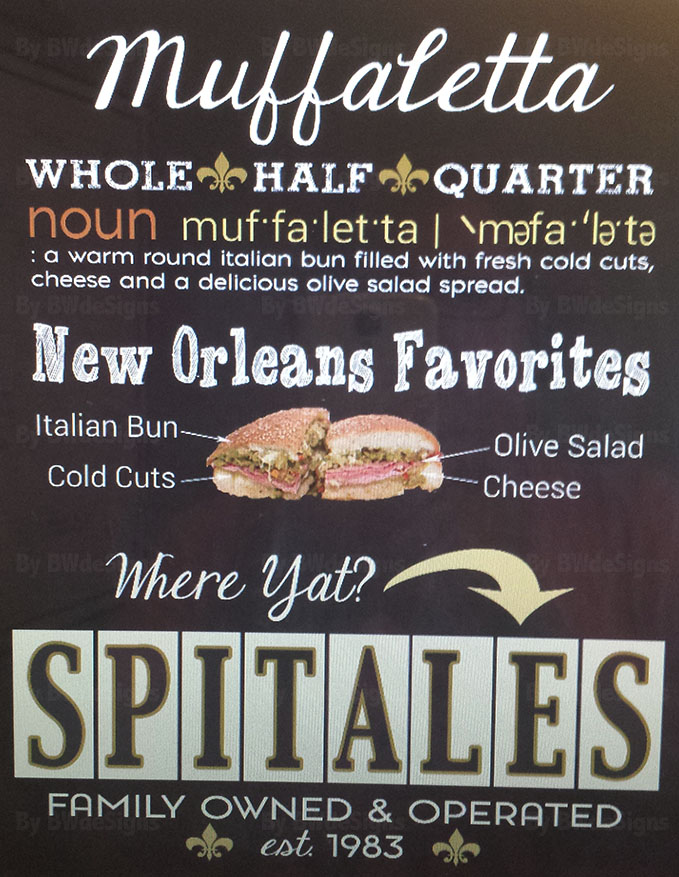 smaller decor & info signs
Shown here are some examples of Patio Signs, interior decor, and signs created for A-frame sidewalk frames. Nearly every design created by BWdeSigns is customized in size, color, fonts, backgrounds & graphics. Your eatery is unique (even if a franchise) and deserves more personalized design.
Is it time to make Your Decor stand out and 'work' for you? Contact me here or Order Your Signs by BWdeSigns Here.